Produced in conjunction with the Singapore International Water Week
More businesses are thus increasingly aware that they must practice the 3 Rs – reduce water use, replace water from alternative sources, and reclaim wastewater. Even with readily available technologies, however, not enough is being done. Although industry accounts for 19 percent of worldwide water consumption, some industry experts say only four to eight percent of its wastewater is recycled and reused.
Industries need water in their processes and supply chains. With water demand outstripping supply globally, companies are beginning to realise the risks that water poses to their business sustainability.
In this light, the Singapore International Water Week (SIWW) Spotlight 2019, which took place on 6 and 7 June in Singapore, aimed to help industrial water users improve their water management. The event gathered over 260 delegates from local and international leading water companies and large industrial water users. Read on to find out about the top approaches, best practices and technologies that were discussed.
"Caring for water … starts from the top, it goes throughout the organisation, and it comes back to the top… It's not rocket science, it's a lot of hard work, a lot of dedication, and I think it's worthwhile."- Mr Magdi Batato
To make water sustainability an integral part of any firm, its senior management must recognise the importance of water, develop an effective strategy, and inspire employees to conserve it. The firm must also reach out to suppliers, shareholders and customers to encourage them to do the same, declared Magdi Batato, executive vice-president and head of operations of Nestlé S.A., who helmed the event's opening session, Making Water a Priority in Your Boardroom.
Embedding water sustainability in corporate DNA
Since 2002, Nestlé has increasingly emphasised the critical role of water conservation in the company's survival. Besides setting internal targets to drive down water consumption, it developed a Nestlé Water Policy in 2003, made water one of three focus areas in its Creating Shared Value report in 2007, published a Commitment on Water Stewardship in 2013, and launched a Caring For Water initiative in 2018.
Nestlé also classified its capital expenditure (CAPEX) in different ways to smooth the way for investments in water sustainability, which may have longer payback periods compared to those for, say, productivity and innovation. For instance, productivity measures require very quick payback, because their CAPEX is for improving efficiency. However, sustainability CAPEX must be viewed differently. "Otherwise, we would not be able to do anything," said Batato.
Making radical changes within and without
In 2014, Nestlé made a dramatic change at its new factory in Lagos de Moreno, Mexico. Instead of buying water for its operations, the factory began extracting water from its milk feedstock and recycling it. This saved 1.6 million litres of water per day, equivalent to about 15 percent of the company's water use in the entire country. Nestlé also ensured that the factory did not draw any water from its surroundings.
Since then, the firm has introduced about 20 "zero water" factories in 13 countries. Explaining this and other water-saving measures it has carried out over the years, Batato shared that 35 percent of Nestlé's factories are now located in water-stressed regions: "If we want to be sustainable as a business, we need our water to be sustainable too."
Beyond transforming its own practices and factories, Nestlé has helped its suppliers to reduce their water use. The company uses many agriculture-based raw materials, and agriculture accounts for about 70 percent of global water consumption. This makes Nestlé automatically focus on not only the inside of its factories, but also on agriculture.
In Vietnam, Pakistan, Colombia and other countries, the firm thus worked with farmers to institute simple and affordable ways to save and reuse water. This included using cheaper methods of drip irrigation, and looking into how to recover, clean and reuse the water from washing coffee beans. Nestlé has also collaborated with local municipalities and governments to start programmes that teach communities how to conserve water.
From water management to water stewardship
As Batato emphasised, it is important to "move from water management to water stewardship", which is owned by everybody, considers a broader boundary than one's own factories, and requires a framework and a verification system.
The results speak for themselves. Over the past two decades, Nestlé has reduced its water use per tonne of product by 80 percent. It has also attained the global Alliance for Water Stewardship's (AWS) certification for responsible water practices for 16 of its 400 factories, and aims to have about 100 AWS-certified factories by 2025.
"You need to know what your water footprint is, you need to know how it interacts with all the different parts of your business, and you need to be able to quantify it."- Dr Piers Clark
To identify inefficiencies and better focus their sustainability efforts, industries need data on their processes such as water withdrawals, consumption and discharge.
Currently, however, "water allocation regimes are plagued by rigidities, inconsistencies, information gaps", said Philippe Rohner, senior investment manager at Pictet Asset Management. "These hinder the prioritisation of uses among the different value chains [and] within the different industries and their economic value creation."
In his presentation on the Global Industrial Water Market Outlook, Rohner stressed the importance of standardising, improving and expanding data collection. Users of data should also consider why the data is being collected and how it can be applied. He explained that when one has data, one can start asking the right questions, finding the answers, and making better decisions.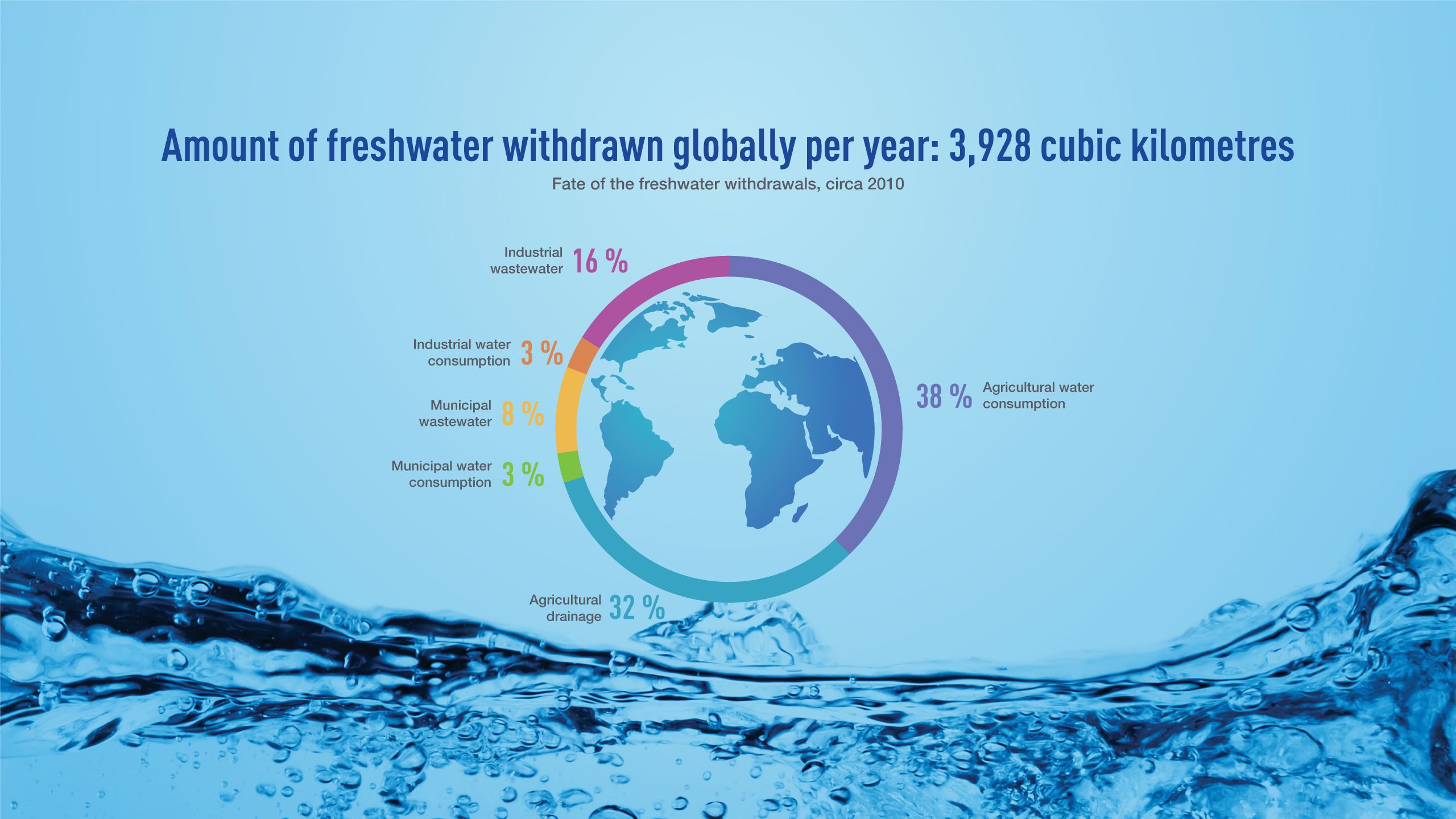 Source: United Nations World Water Development Report 2017 – Wastewater: The Untapped Resource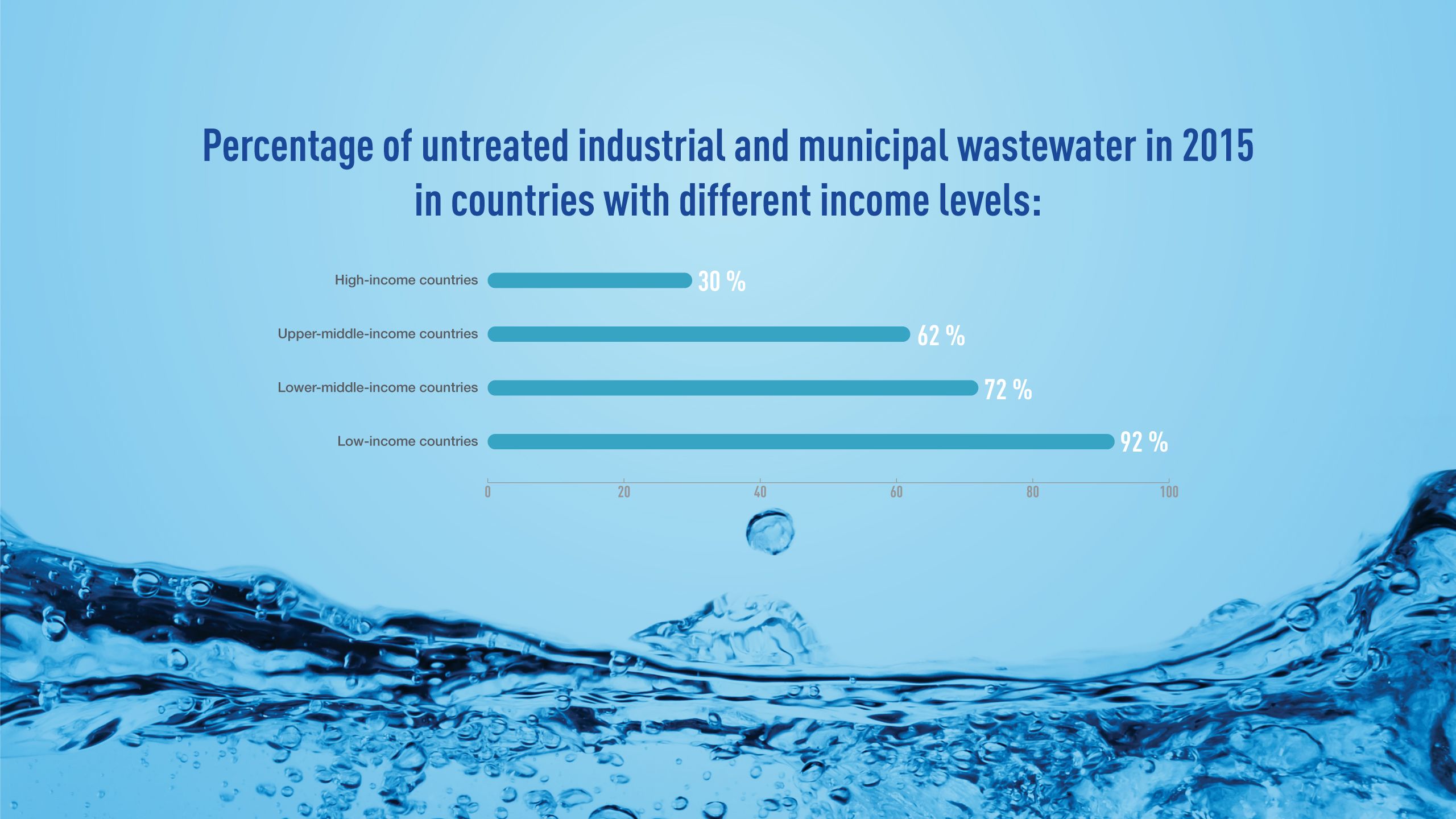 Source: United Nations World Water Development Report 2017 – Wastewater: The Untapped Resource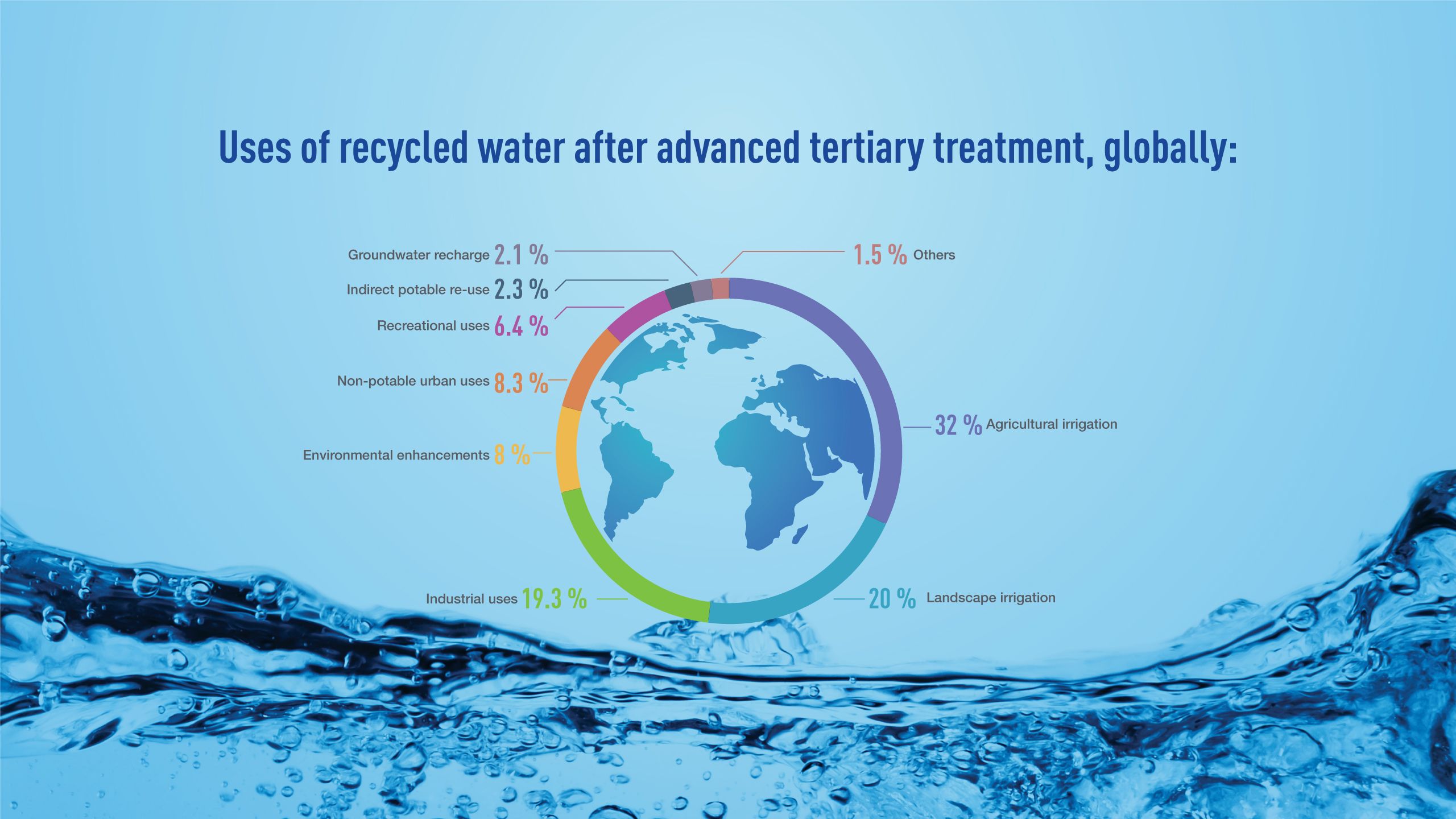 Source: United Nations World Water Development Report 2017 – Wastewater: The Untapped Resource
Framing it right
In the session on Framing it Right, five industry and government leaders shared how collecting and analysing data could allow organisations to do just that.
Using multi-pronged strategies
By studying water consumption patterns, PUB, Singapore's National Water Agency, estimated that the country's non-domestic demand for water would rise from 240 million gallons per day (mgd) today to 600 mgd by 2060. It would account for 70 percent of the nation's demand by then, up from 55 percent now.
Harry Seah, PUB's deputy chief executive (operations), noted that these projections mean "industrial water solutions actually play a very important role in the way we manage water in Singapore in a sustainable way". They informed PUB's drive to persuade businesses to reduce their water consumption and target to recycle 3 mgd or more of their wastewater annually.
To give firms the confidence to tackle their water issues, PUB adopts a three-pronged approach. It provides technical support to companies, including by facilitating water audits to identify potential water-saving measures and matching industries to technology providers; creates funds that they can tap, such as the Industrial Water Solutions Demonstration Fund, Water Efficiency Fund and Living Lab (Water) Fund; and showcases success stories, for example through site visits.
In Taiwan, the Taiwan Semiconductor Manufacturing Company (TSMC) established a three-pronged strategy to safeguard its water supply. "Although Taiwan has a lot of rain, there are not enough reservoirs. Water supply is a concern for future economic growth," explained Jian Kuang Wang, TSMC's senior vice president (operations / fab operations).
Based on the ambitious targets that it set to ensure its business sustainability, TSMC's approach involves water resource diversification, water usage efficiency and chemical waste reclamation measures. Water reuse is the common thread, and the outcomes have been impressive.
For instance, TSMC has been using recycled domestic wastewater for its manufacturing and reclaiming its own wastewater. It now recycles over 85 percent of its process water, uses each drop of water 3.5 times, and is developing advanced industrial wastewater recycling techniques, with a pilot plant that demonstrates reusable water quality. It plans to expand the plant's daily capacity to 20,000 cubic metres.
Furthermore, it has drastically reduced its water consumption through process optimisation and innovative equipment design. The company has also helped to control its water pollution by working with partners to reclaim chemical substances from liquid waste generated in its manufacturing.
Assessing your risks
René Hoeijmakers, Ramboll's executive director for water, advised industries to undertake comprehensive risk assessments, which could further secure their water supply and operations against the effects of climate change. Such assessments could entail not only risks related to water availability and conservation, but also to floods, which can affect even sites far from coastal areas, due to the higher frequency of heavier storms.
Moreover, companies should collect data to measure and monitor risk-related aspects of their business, such as water consumption and discharge, as well as key performance indicators. They could then apply data analytics and use the information to guide their strategies and objectives, set goals, and develop programmes to boost performance, brand value and reputation. As Hoeijmakers put it, "we can turn all those risks identified into value."
Surveying the value chain
Industries should also look beyond their own operations and across their value chain to make a significant reduction in their water impact. When GlaxoSmithKline (GSK) investigated its water footprint, it discovered that its own operations accounted for just 3 percent of it, while its raw materials constituted 84 percent. The remaining 13 percent was from an unexpected source.
"We found that most of that 13 percent is from tooth-brushing!" said Richard Pamenter, GSK's vice-president and global head of environment, health, safety and sustainability. Customers were leaving the tap on while brushing their teeth with GSK's products.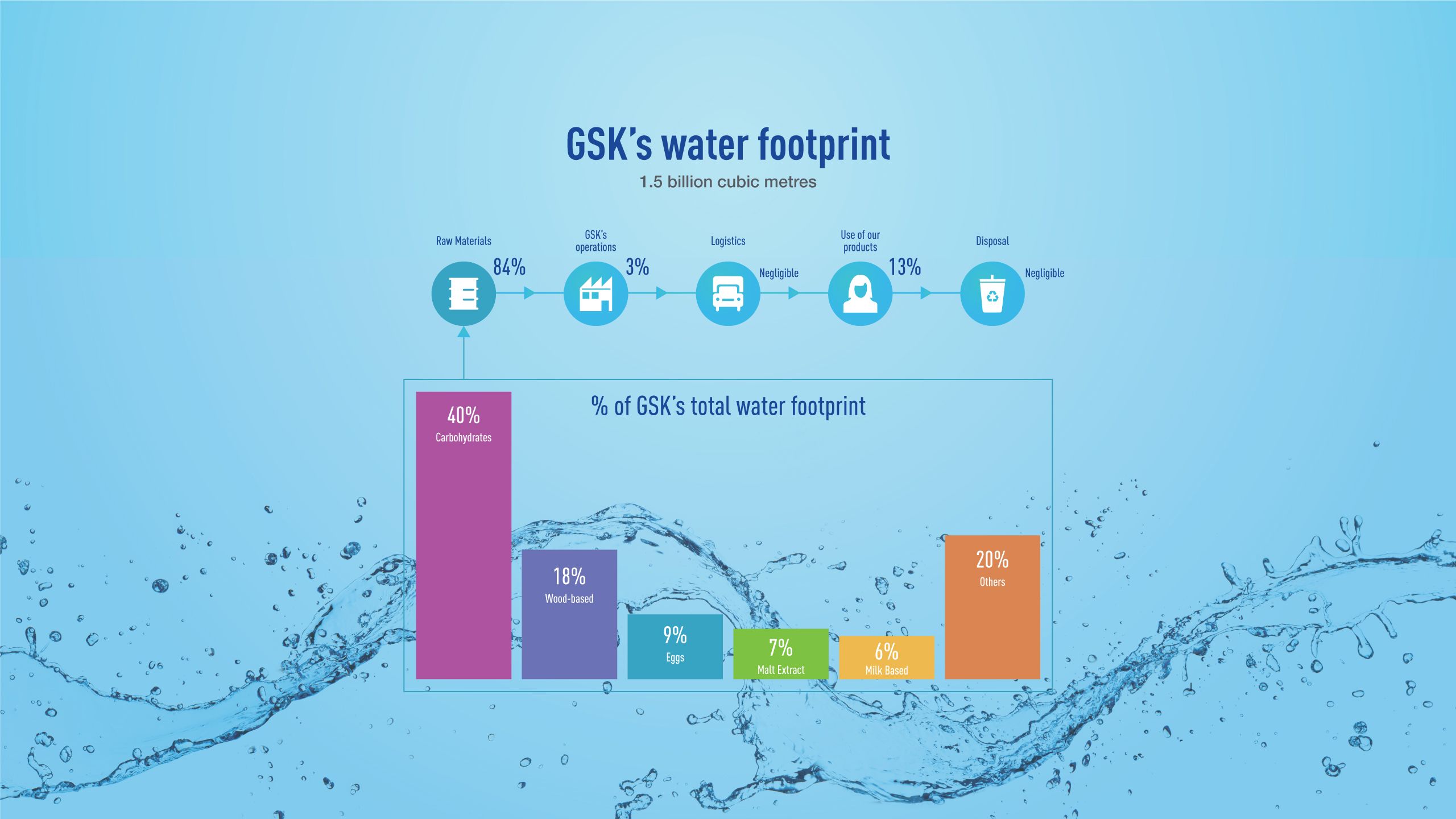 Based on information from GSK.
Subsequently, besides working with a United Kingdom water authority on a study to show that households could save 7 litres per person each day if everyone turned off the tap while brushing their teeth, GSK established water reduction targets for its supply-chain facilities in water-stressed locations.
Furthermore, in India, it worked with Alternative Development Initiatives, an Indian non-governmental organisation, as well as the local government and community, to help one of its milk suppliers improve an existing wastewater treatment facility. This created 82,000 cubic metres of treated water annually for irrigation, and up to 10,000 cubic metres a year to recharge the local aquifer.
Developing a roadmap
H&M has made similar strides in water sustainability, including by mandating the tracking of water usage in its supply chain. Harsha Vardhan, its global environment manager for production, recalled that when he assumed his position three years ago, no one had a clue about the size of H&M's water footprint. Most of the factories that it worked with did not measure their water consumption. Consequently, H&M made measuring water usage a "minimal requirement" for its factories. "If you don't have water meters … you cannot work with H&M," said Harsha.
The data obtained from this and other initiatives enabled the company to develop a water roadmap, which includes reducing its water use in production by 25 percent by 2022. H&M has also provided water awareness training for 75,000 employees and raised water and chemical management standards for more than 500 suppliers.
Still, as Harsha pointed out, H&M constitutes probably just 10 percent of the business in many of the factories that it uses. The push for water sustainability must be industry-wide, or the factories will have no incentive to change, since they can choose not to work with H&M. He said: "If we are clean fish in a dirty pond, it's not really helping. We have to do it together."
Harnessing technologies
"The game-changing technologies already exist. Barriers do exist, but we can overcome them …. to drive the resource and reuse revolution."- Mr Yuvbir Singh
The good news is that companies aiming to shrink their water footprint can take advantage of a plethora of technological solutions. Four industry leaders shared their experiences and advice on this in the Tapping Technologies session.
Integrating solutions
Yuvbir Singh, chief executive officer of water technologies and solutions at SUEZ, suggested that companies could mix-and-match technologies if necessary to best serve their needs. For instance, after L'Oréal sought SUEZ's help to reduce its water consumption by 60 percent by 2020, SUEZ audited about 15 of L'Oréal's facilities and put together solutions that included dissolved air flotation, membrane bioreactors, reverse osmosis and anaerobic digestion.
Through integrating technologies, SUEZ also enabled PepsiCo Mexico Foods to slash its water consumption at three facilities by 75 percent. Besides installing its InSight system, which combines data and analytics to optimise and supervise plant operations, SUEZ used a membrane bioreactor and reverse osmosis to transform PepsiCo's conventional wastewater treatment processes.
Facilitating technology adoption
Singh acknowledged that there are still three main barriers to technology adoption: economics, risk, and lack of clear regulations. As such, countries should look into full-cost pricing for water and tax incentives to encourage technology use, since "obviously, it's cheaper to use surface water and groundwater", he said. It is also vital to educate people about what can be done with technology, and ensure they use some of these solutions, he added.
For the Singapore Refining Company (SRC), an open mind and collaboration are crucial for successful technology adoption. "We want to reduce our water footprint as much as possible. The only way that we can do this is by gaining more technologies, learning from each other, and continuously improving," said SRC's technology and optimisation manager Reddy Chirla Chandra Sekhara.
For example, SRC worked with PUB and technology providers to build the first fully automated plant in Singapore for recycling industrial wastewater that was previously discharged into the sea after being treated. Using microfiltration, reverse osmosis, and flatsheet ceramic membranes, the plant has a design capacity of 2,500 cubic metres per day and boosted SRC's water recycling rate from 18 percent to 42 percent.
The main ingredients for success included "extensive pilot-testing" before building the plant and identifying its optimal capacity. "If we target higher recovery, of course the pressure requirement is high, the energy requirement is high, and tendency of choking is also high. So we added up [the] economic analysis and decided [about] 50 percent is optimum for us," Reddy explained, adding that factors such as leaks or cracks in the plastic piping may reduce recovery rates.
SRC is also building an innovative thermal desalination plant that uses low temperature waste heat to produce fresh water. Furthermore, it has started projects to increase its condensate recovery, and is studying the feasibility of collecting rainwater and recycling it.
Jagadish CV, chief executive officer of the Systems on Silicon Manufacturing Company (SSMC), a Singapore-based semiconductor firm, also noted that its water use would be four times as large today had it not invested in recycling and reuse technologies and programmes. He advocated a phased approach to technology adoption: "Visualise something which you want to do in the next year or five years or 10 years, and then work on it and take it to the next stage."
In SSMC's experience, water segregation is also pivotal to water reuse. Industries should have production tools that can isolate different grades of water, as well as water stream segregation piping and collection tanks. These enabled SSMC to reuse some collected water directly and treat the rest, including water from its scrubbers and its wastewater. Depending on its quality, such reclaimed water could be used for various applications, such as for cooling towers.
Moreover, SSMC is the first wafer manufacturing company in the world to use NEWater for production, according to Jagadish. NEWater is Singapore's version of ultra-clean, high-grade reclaimed water, and enables SSMC to conserve water while meeting stringent water requirements. SSMC uses each drop of NEWater 3.5 times before discharging it, and the firm's other efforts to reduce its water use include installing PUB-approved water flow reducer taps in its buildings.
Leveraging advancements
Over the years, the Sembcorp group in Singapore has observed the increasing advancement and affordability of wastewater recycling technologies. "We have always been open to new technologies… We continue to look out for the best available technologies in the market," said Tan Cheng Guan, head of Sembcorp's renewables and environment business.
Noting the growing role of data analytics in technology development, Tan shared that Sembcorp has invented Virtual Brain, an intelligent operations management system that uses machine learning and artificial intelligence to centrally control and optimise water facilities. "The value of this is we are now able to predict the performance of any wastewater treatment plant, five days in advance, to a high degree of accuracy if there is a change in the influent from the customer," Tan explained. "Plant processes sometimes change and we need to be able to react fairly quickly."
Some challenges have turned out to be opportunities in disguise. When Sembcorp was tasked with developing a Total Water Management Plant for a coal-to-liquid project in Shanxi Province in China, it had to find a way to meet the authorities' demand that the facility would have zero liquid discharge (ZLD). The company thus implemented processes such as chemical and biological treatments, reverse osmosis, microfiltration and ultrafiltration, which gave it exposure to some new ZLD technologies. Such technologies have become part of Sembcorp's focus areas, with ZLD likely to become more important for water-stressed regions.
The true value of water
"If we value [water] correctly, we will start protecting our sources, we will probably also invest in it, look for innovations and … leave no one behind."– Ms Bianca Nijhof
The world is still falling short of what it must do to avert a catastrophic deficit of water in the near future. Nevertheless, more companies, countries and organisations are acting to close the chasm, as five panellists shared at the session on Valuing the Precious.
Appreciating the multi-faceted value of water
"If we continue on the track that we are on right now, we will have a 40 percent shortfall of water by 2030," said Bianca Nijhof, managing director of the Netherlands Water Partnership. The economic, social, environmental and cultural value of water must be taken into account, she asserted.
Nijhof highlighted that several organisations have developed principles and protocols to help ramp up efforts in this area. For instance, the High Level Panel on Water, convened by the United Nations and World Bank in 2016, created a Valuing Water Initiative that seeks to encourage public and private entities to allocate and manage water more sustainably, including in their decision-making, policies and water-pricing. It also generates case studies on the benefits of investing in ecosystems so that others can learn from them.
In addition, the Natural Capital Coalition, which consists of about 300 organisations globally, established a Natural Capital Protocol that firms can use to "identify, measure and value their direct and indirect impacts and dependencies on natural capital", including water. They can then make better decisions through understanding the resulting costs and benefits, as well as the risks and opportunities involved.
Calculating and managing risks to enhance water stewardship
Vishal Sharma, senior vice president and general manager of Ecolab subsidiary Nalco Water Asia Pacific, also indicated that "the lack of understanding about the real risk of water scarcity is the primary reason for the lack of actions on total water management". To address this issue, Ecolab invented two free online tools called the Water Risk Monetizer and Smart Water Navigator.
The Water Risk Monetizer, a financial modelling tool developed in collaboration with Microsoft and Trucost, helps businesses incorporate water risks into their decisions and planning through four key steps. These include assessing water scarcity risks, understanding the full value of water to businesses, calculating the potential revenue at risk, and quantifying the water risks in financial terms. To better understand how to manage their risks, firms can then use the Smart Water Navigator to assess themselves in areas such as site and water management, target setting and water stewardship, as well as receive ideas on how they can improve.
According to Sharma, such tools will also make discussions about returns on investments much easier. For example, when Microsoft used the Water Risk Monetizer, it discovered that its risk-adjusted cost of water was actually about 10 times what they were paying for the resource. "The minute you look at what's the business risk you are facing, the return-on-investment discussion just vanishes… You are talking of survival, in many cases," he said.
Indeed, more industrial water users are increasingly keen to get more granularity about their water risks, observed Peter Nicol, global water director at Jacobs. Stemming from factors such as water scarcity, the company's clients have noticed their water costs rise to as much as 30 percent of their operating costs.
Jacobs has thus designed several decision-support tools that can help companies better understand the water-related challenges and risks of their operating environments. These include Voyage, a dynamic simulation model that can determine the sufficiency and quality of water sources and the requisite type of water treatment.
As Nicol explained, the world's more developed regions can usually support sustainable industry since they have power, water and the necessary infrastructure, but some areas cannot. Hence, risk modelling provides industrial clients with deeper insights into their operating environments' impact on their businesses.
Working towards science-based targets to reduce risk
Tom Williams, the World Business Council for Sustainable Development's (WBCSD) director for water, shared that "companies are becoming much better at disclosing non-financial information, and maybe non-conventional financial information", referring to the 2018 Global Water Report from CDP (formerly the Carbon Disclosure Project), which collected water data from over 2,000 companies and highlighted a financial impact of water of about US$40 billion. CDP is a non-profit charity that operates a global disclosure system for investors, companies, cities, states and regions to manage their environmental footprints.
Similarly, the financial sector is paying more attention to risks related to water sustainability. When the Dutch Central Bank examined 400 billion euros of Dutch equity worldwide, it found that about half of the equity lay in medium to high water-risk locations.
Despite knowing the magnitude of the financial risk to the economy and business, the world is still not doing enough to protect water resources, and manage and mitigate water risks, said Williams. To spur further action, the WBCSD will help companies to understand and apply a science-based target for water expected to be developed by late 2020 and similar to the target of keeping global temperature rise to below 1.5 degrees Celsius.
"I think the water science-based target will be a key moment …. that will galvanise many stakeholders [and] help corporations really understand what they need to do in this water space in terms of meeting targets," said Williams.
Developing a global understanding of the value of water
In addition, the value of water differs from country to country, according to Sudipto Sarkar, the World Bank's water practice manager for the East Asia and Pacific region.
As part of efforts to deepen understanding in this area, the organisation is embarking on a study on the value of water in China, which is keen to develop an ecological civilisation. The study will look into water's various values, including economic, ecological and cultural, to translate them into models, which would then be applied in different policies and projects.
A recently completed World Bank study on water security in Vietnam also revealed that inaction on water issues, such as water pollution from industrial sources and water stress, would affect businesses and cost the country about six percent of its gross domestic product by 2035.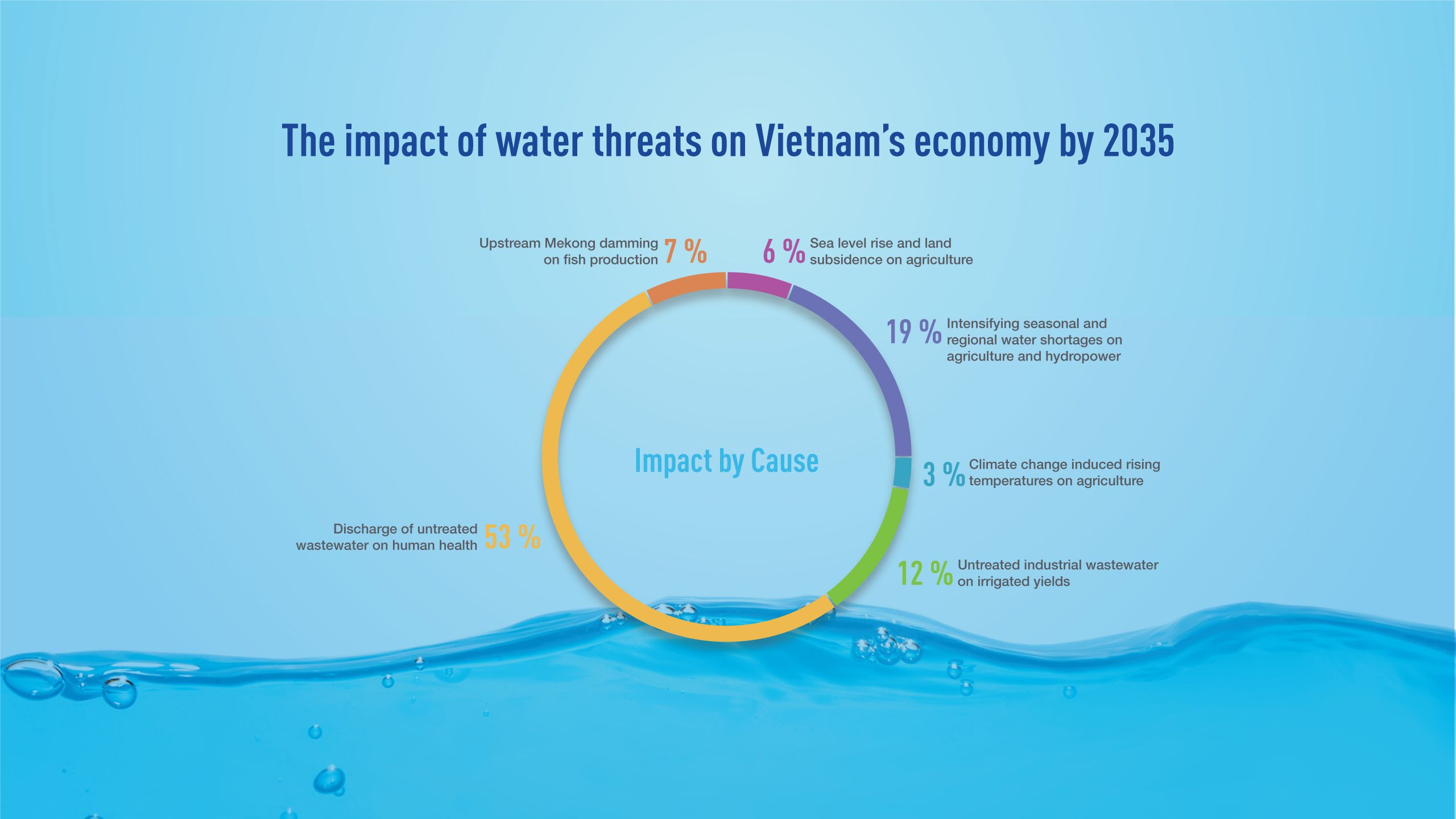 Adapted based on information from the World Bank.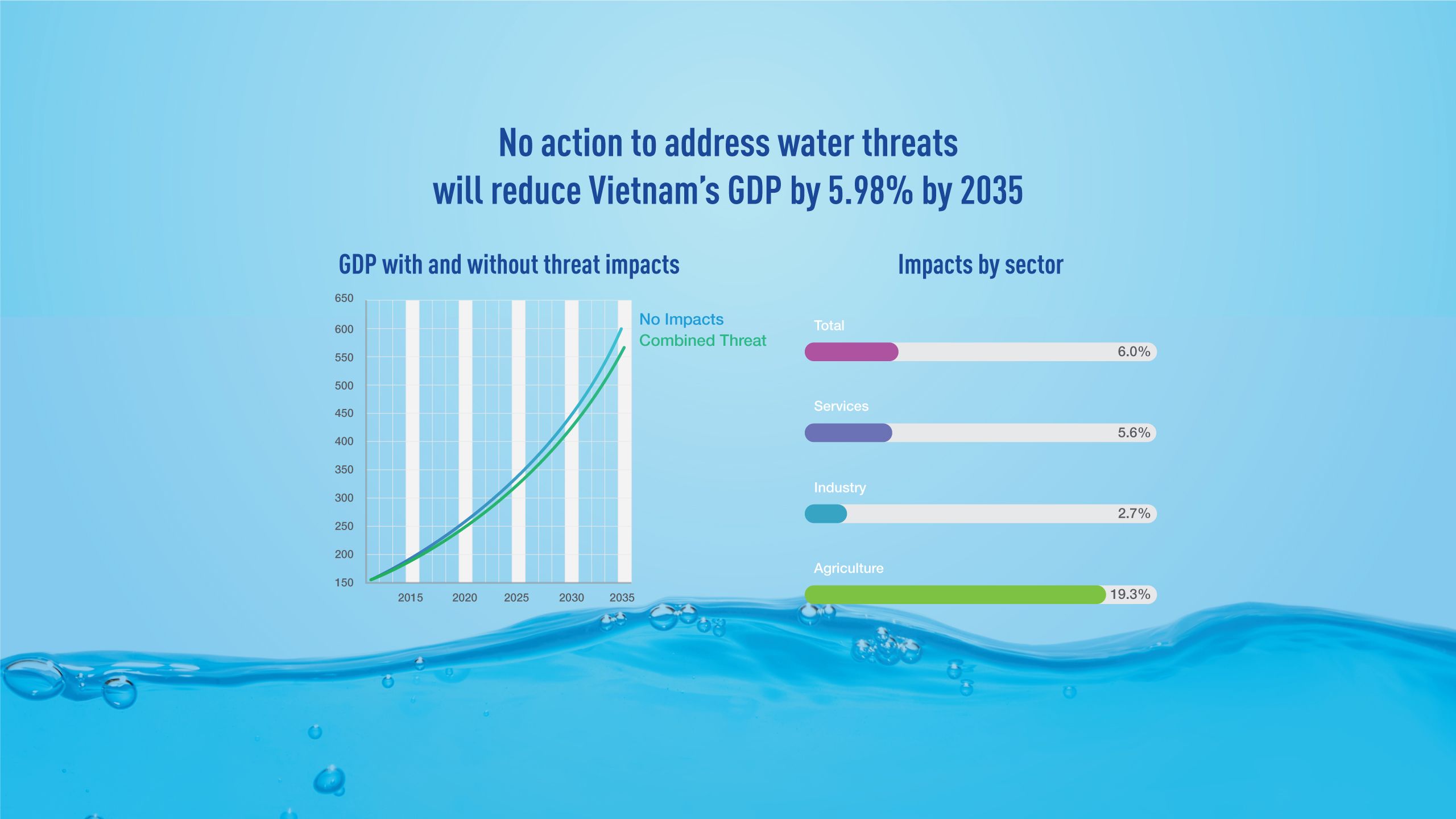 Adapted based on information from the World Bank.
Indeed, "wastefulness by industry in an increasingly water-stressed world is less and less tolerated", said Peter Joo Hee Ng, PUB's chief executive, at the closing session of SIWW Spotlight 2019.
With multiple companies and their experiences showcased at the event, Ng told delegates: "The fact that technology is available, is proven and is already in place, should give us additional encouragement that we can make a dent in quenching industry's thirst for more and more water."
LInk: https://www.eco-business.com/news/global-thirst-a-spotlight-on-water-in-industry/
Source: https://www.eco-business.com/news