Despite the common belief that data center operations and the cloud generate information technology's most significant environmental impacts, the embodied carbon of endpoint devices accounts for nearly half of overall IT greenhouse gas emissions in most enterprises.
As digital business accelerates, the use of corporate endpoints and peripherals continues to grow exponentially. Consequently, managing the environmental sustainability of end-user equipment is becoming a core responsibility and priority for IT leaders.
Yet many of them don't realize that the decisions they make at every step of the device life cycle have a significant impact on IT sustainability. In addition to supporting corporate environmental, social and governance goals, strategic sustainability decisions can also provide benefits such as cost savings, modernization and infrastructure resilience.
The key to harnessing such benefits is to use the circular economy as a guiding framework for device sustainability. Here are the steps that IT leaders can take to rationalize, retain and restructure the use of devices continually, from procurement though disposal, in a way that equally serves the planet, engages employees and supports the business.
Consider the device waste hierarchy
As environmental sustainability, supply challenges, geopolitical uncertainty and economic pressures constrain product availability and budgets, IT leaders are challenged to reduce excess equipment. Many CIOs fear that any reduction in compute resources will lead to device failures, end-user downtime, low productivity or poor employee experience. These priorities can be balanced, but it requires shifting the mindset of rationalization from reduction to maximization.
Many organizations don't even realize how much they have overprovisioned endpoints to employees or that they have invisible excess value. For example, enterprises may have IT hardware that is missing, lost or "ghosted," which happens at all stages of the life cycle — from procurement to provisioning to upgrading. This not only contributes to excess e-waste, but also results in financial and data loss.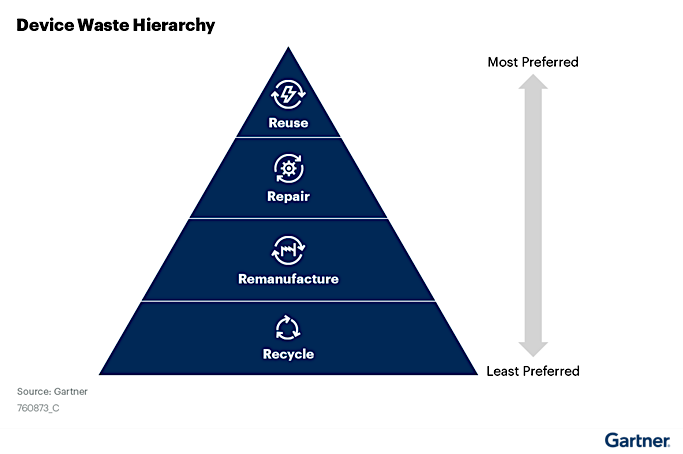 To avoid this scenario, IT leaders must catalog and identify the resources currently existing in the organization's environment. The goal is to become circular by optimizing device intake and use, not just mitigating disposal. Circularity is not an end-of-life process; rather, there is a hierarchy of effectiveness between circular processes, including reuse, repair, remanufacture and recycle.
From a waste reduction perspective, reusing or repairing devices is more effective than remanufacturing or recycling them. While all four approaches seek to eliminate landfill waste, the latter options contain embodied carbon and energy impact and require additional labor and costs to decommission and procure new equipment.
Extend the life of assets
Extending device life cycles helps reduce emissions from device manufacturing and transportation, which is the largest proportion of enterprise IT greenhouse gas emissions. Employee segmentation and analytics can help extend refresh cycles.
Although most organizations set three- to four-year refresh cycles for employee laptop personal computers, it's likely that only a fraction of those devices have performance metrics that would justify replacement within that time frame. Extending their life span represents millions of dollars in potential cost savings. IT organizations can use insights tools to optimize life cycle strategies, focusing on actual device performance versus a set timeline.
Updated usage policies can also help extend the life of assets. The long-term reliability of a device is often contingent upon how the employee treats and maintains it. One of the first things to fail on any device over time is the battery. Therefore, actions to reduce battery consumption will help avoid premature obsolescence. For example, ensure that all devices are put in a sleep state when they are not being used. This can be done by using group management policies or by establishing best practices with employees.
Finally, consider leveraging refurbished and remanufactured equipment, which can reduce waste and hardware spend. Maintaining a remanufacturer relationship allows organizations to take advantage of availability in a less competitive resource stream when supply is constrained. Refurbished equipment is not viable for all use cases and employees, such as engineers or creative professionals who rely on high-performance computing.
However, there is a business case for employees with moderate technical requirements. Select a core group of users who only require basic, well-defined configurations, such as administrative workers or call center agents, to pilot and test the performance of remanufactured devices in the organization's environment.
When all avenues have been exhausted and decommissioning is necessary, engage IT asset disposition service providers that have been certified by recognized third-party auditors. Establish clear metrics for e-waste collection and recycling, including what percentage of assets should be reused, parts harvested or materials extracted.
Align sustainability as a core buying criterion
For organizations with a greater level of sustainable ambition, update device procurement strategies to make environmental sustainability a core buying criterion. In some cases, this is straightforward: For example, set a policy that all PCs, laptops, desktops, monitors and peripherals must be shipped in responsible packaging and have specific ecolabel certifications. Or, require the energy efficiency of laptop, desktop and monitor models to be compared as a key factor in purchasing decisions.
IT organizations can also reduce their environmental footprint by sourcing devices from responsible providers. A growing number of IT equipment manufacturers are joining networks with the goal to share their sustainability performance data and receive a sustainability certification. When evaluating device sourcing options, consider vendors that are part of a such a network.
The next level is one of systemic architectural choices. For example, virtual desktop infrastructure running on thin clients can have a smaller environmental footprint than a laptop or a desktop. PC as a service can ensure the environmentally efficient tracking, management and disposal of devices is a responsibility of the vendor. There are many factors involved in those choices well beyond sustainability, but the carbon footprint and optimization are additional criteria to consider in that evaluation.
Link: https://siliconangle.com/2022/11/11/embrace-circular-economy-support-sustainable-device-lifecycle/?utm_source=pocket_reader
Source: https://siliconangle.com